"Education is the most powerful weapon which you can use to change the world"
–APJ.Abdul Kalam
Conserve Academy creates passionate trained engineers with leadership quality and problem solving skill. You can gain a Pragmatic-based learning on every aspect of engineering modules. We nurture your career, to stand up in the competitive world. Conserve leads your path to reach your destination on the dot.
VISION
To become a center of excellence in knowledge sharing and a world class engineering academy.
To build satisfying career for our people.
Provide Innovative solutions to change the market trend.
MISSION
To be the light in the students' pathway towards accomplishing their dream and steer their careers in the direction of market demand.To guide them in becoming an eminent personality in their core stream.
HISTORY
We are a group of Professionals passionate on MEP Services and Green Buildings. We have established Green Building Academy in March 2012 to express our passion through teaching and training. Green Building Academy has trained around 3000 professionals in Green Buildings and MEP Services. We have recognized the market demand for these Services and established Conserve Green Building and MEP Solutions LLP, India in April 2014. Conserve served as back office in drafting (2D and 3D) and designing for many prestigious projects in GCC countries. As we grew up we have seen the requirement of our presence as a front office to coordinate with clients hence Conserve Green Building and MEP Solutions WLL, Qatar is established in April 2016.
Conserve is established to serve the Construction Sector with Green Buildings and Engineering design support services to serve Middle East, US, Europe, Australia and other parts of the world.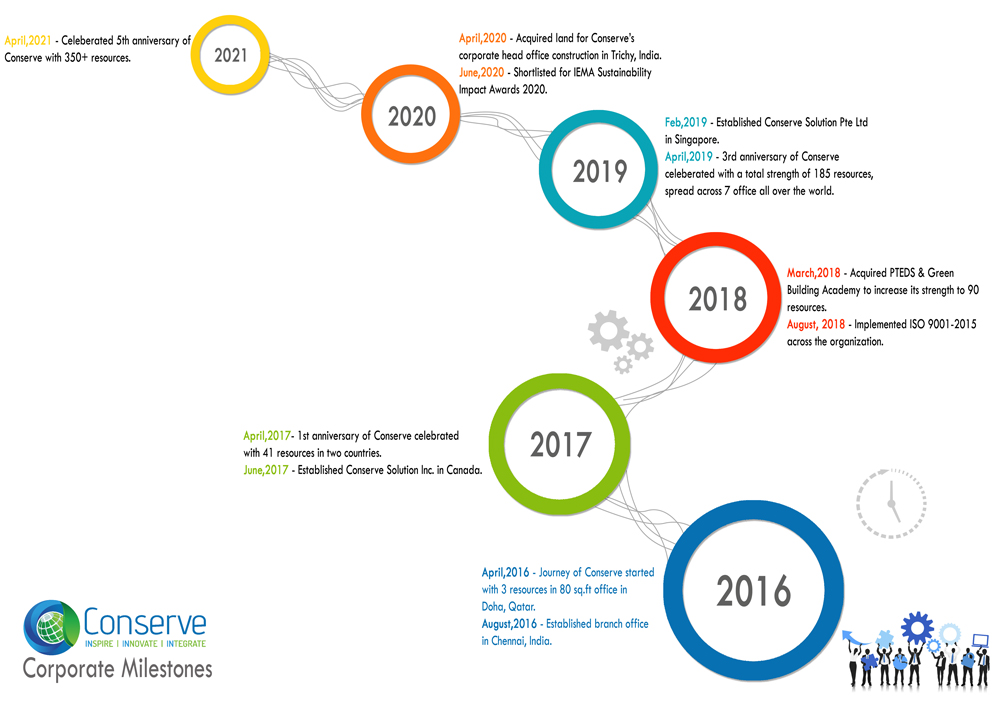 COMMITMENTS
We will support your studies by providing and maintaining appropriate services, resources and facilities.
We will communicate with you in a clear, timely and accurate manner.
We will meet your expectations wherever possible, and will explain when we cannot.
We will deal with you as an individual and ensure that you are treated fairly and equally.
We will measure our performance against a full range of service standards.
Get a free Enquiry
Write to us with your questions, queries and comments, and we'll reply as soon as we can: